As I have said in my other post, FIFA Ballon d'Or 2012, that the selection of players for FIFA Team of the Year is very much interesting or perhaps bizarre. That depends on whose opinion you ask. Some experts would say that the Spanish league has all the best individual talent in football however, some also believe that the result has no credibility as there are other players who are more than capable and superior but was not included in the selection.
So here's the list of players selected for the 2012 FIFA Team of the Year and it's up to you to decide whether it is laudable or some of them should not deserve to be included at all. The names of the players mentioned according to their position, starting from the back.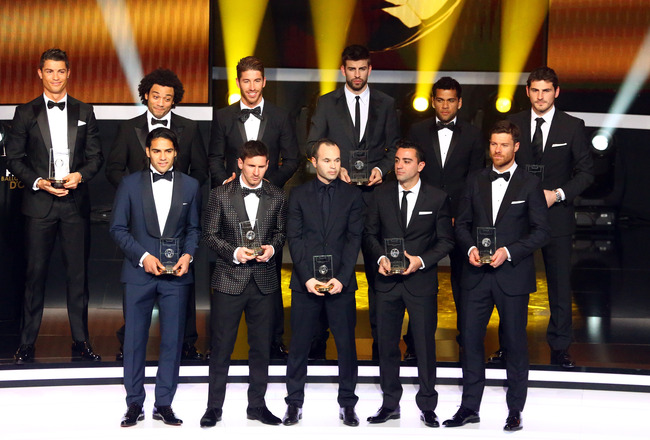 Casillas; Alves, Pique, Ramos, Marcelo; Xavi, Alonso, Iniesta; Ronaldo, Messi, Falcao.
You see, there are no other players from other European Leagues or anywhere else in the world. All of them played in La Liga and if Falcao wasn't selected then it is all about Real Madrid and Barcelona. But nonetheless, that's the result from the votes of approximately 45,000 professional football players around the world with a 4-3-3 formation.
NB: Image from bleacherreport.com.