Real Madrid coach Carlo Ancelotti has confirmed that the world record signing Welshman winger will make his debut in the away match against Villareal although it is not certain whether he will be part of the starting XI yet he definitely will play. For sure many eyes are set on him as he takes his first competitive match in a Los Blancos shirt and expectations are running so high. Until then no one knows what he can give back to Real Madrid being the most expensive football player in the world.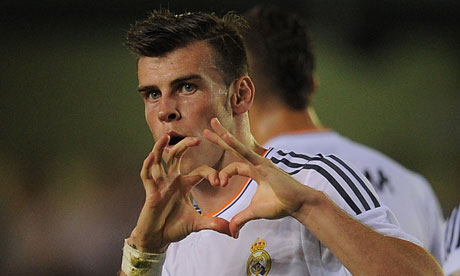 What's more interesting in the coming match is what position he will be playing in order not to cause disruptions and problems in linking up with CRon, one of the best players in the world. Some experts and analysts believe that Bale will be playing more in central position to be most productive and probably the reason why Ozil was sold to Arsenal, so to free up some space for him. With Ronaldo and Di Maria on the flanks, it could be the best solution to maximize the effect of Bale's arrival and get more goals in return.
But then again, that too remains to be seen if Bale and CRon will play along side and if they will jibe together on the pitch. And Bale needs to score a goal as soon as possible to fend off the overwhelming pressure and criticism that surrounds his world breaking transfer. So from tomorrow we will find out who lives to the expectation of many.
Image from
theguardian.com