This post is simultaneously posted in my other blogs.
A few days ago while browsing the net, I stumble upon an article about the
top reasons why OEC must be scrapped
. And for those who don't know, OEC or Overseas Employment Certificate is a piece of document that OFW's should procure and present to the Immigration Department upon living the Philippines to go back to your work abroad. One must have an OEC with them if you are a returning worker and you don't need to have one if it is your first time to work abroad but you instead must secure a Pre-Departure Orientation Seminar (PDOS). But that's a different story.
It is elaborated in the article that the sole purpose of OEC is to provide proof that the person is a returning OFW and that every OFWs are exempted from paying travel tax and terminal fee in all international airports across the Philippines. And you can obtain OEC from any consulate and embassies of the Philippines abroad and in any POEA offices in the Philippines.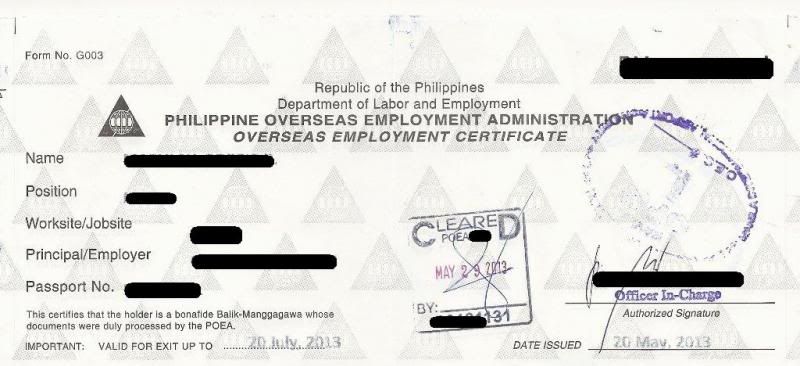 Upon reading the whole article, what catches my attention about the OEC is its impracticality in one sense. So hear me out on this one, "It is so true that you are paying a fee for this certain document in order for you to be exempted from paying other fees at the airport of departure". That seems to be redundant to me and if you are going to think about it you are still paying roughly half of the amount of the travel tax and terminal fee. It really doesn't make any sense that you have to pay a certain amount to be exempted from paying other fees. Much to it that there are alternative ways to prove that you are an OFW if the main concern is only to find proof that you certainly works abroad.
This just reminded me, at one time, when I was about to get an OEC at the Philippine Overseas Labor and Office wherein they ran out of forms and I was advised to get one in POEA in the Philippines before I return abroad. I guess
it's now time to abolish the OEC for good
.