The derby in Serie A between city rivals Inter and AC Milan was thought to be a match to see considering that Inter needed a win to finally catch up with the league leader but it was eventually a lopsided victory by the Rossoneri. What should be a close fight between bitter rivals became a demolition with a 3-0 win by AC Milan in the Derby della Madonnina.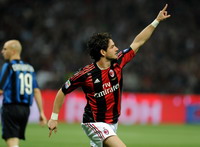 Pato, the Brazilian striker, made it easy for the Rossoneris to claim the full 3 points by netting two goals and extended their lead to five with 7 more games left in the season. It could be the deciding factor of who will bring the Scudetto home or should I say who will raise the Scudetto since both teams are sharing the same stadium at San Siro. With the masterful win by AC Milan, they are opening the gap and possibly opening the way for the Scudetto after 7 years of drought without any domestic silverware.
Could this be the end of Inter's domination in Serie A and the chance for The Red and Blacks to hold the Scudetto again?