There are days in our life that we like to write, compose poems, journals or article but even how much we tried to scribble something yet, it just simply cannot transpire into words. There are so many ideas in our mind ready to pop out and to be
inspired by
readers but it is just another day that seems so gloomy.
Indeed, most of my compositions or the poems that I have written were molded and comes in being when I was down and so low. Those were the days when relationships fails and seems not working out. In this life, I found so many uncertain things and there are instances that you thought you already shaken off the cloak of uncertainty but you end up in a closed door.
I've been writing some compositions and poems in the past which you can find in

Triond

and

Wikinut

.
Recently, I ventured into freelance writing and somehow it bears good fruit and in my first month, I was able to earn a descent $60+. You can see the

proof of payment here

;or click on the image below.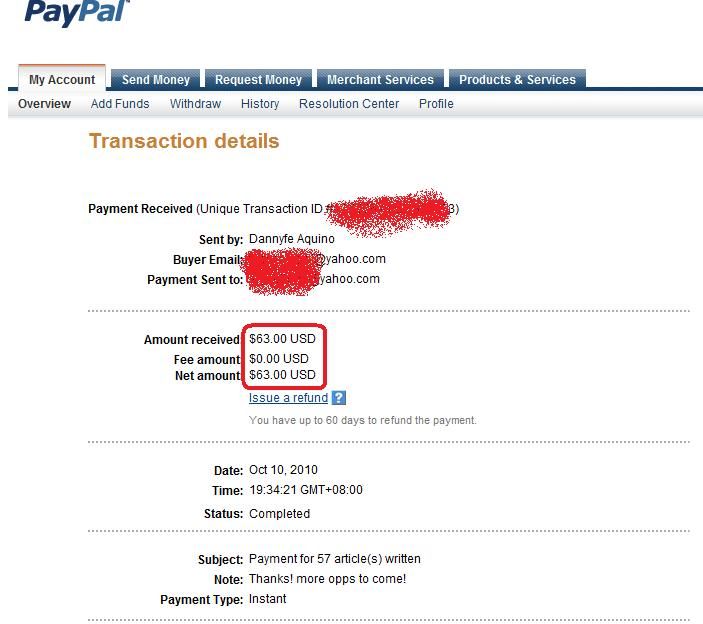 There's a vast resource of income generating opportunity that still needs to be tapped in the internet. You can even act as a publisher or advertiser thereby monetizing your blog site. I recommend

Adgitize

(just click on the banner at the top of the page)

if you don't have one yet or not happy with your existing one. The most important thing is, it brings traffic to your site which we all know is very much important in order for your blog to get viewed and increase your ranking.